Step by step AccessDiver tutorial. this are only made for Athena and Energy. This tutorial is for complete beginners. I want to . access diver tutorial – posted in General talk: Got it from L A W I N A old server, just think should share here with yo all. Even though i didn't. Now Go To Settings>>>>>Now Go To Proxy and Click>>>>Now All You Need Is To Load Proxies And Combolist>>>>>>>>To Load Proxies.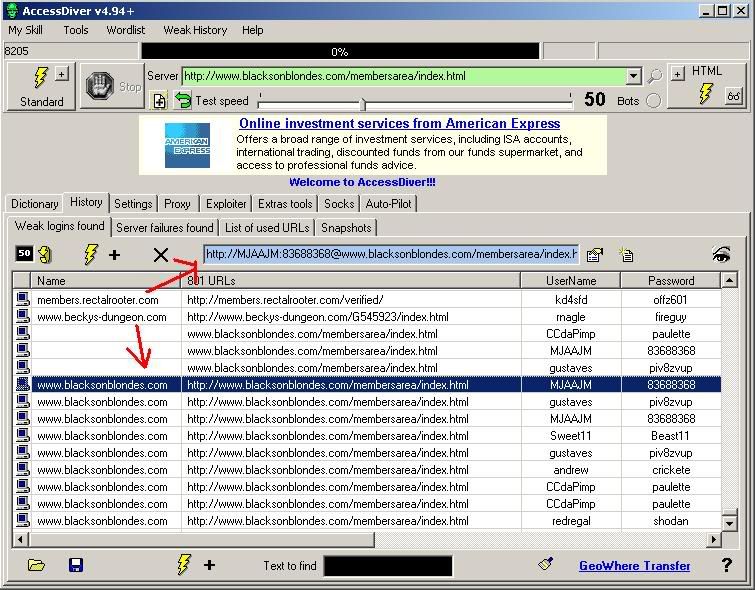 | | |
| --- | --- |
| Author: | Zushicage Micage |
| Country: | Gabon |
| Language: | English (Spanish) |
| Genre: | History |
| Published (Last): | 17 May 2005 |
| Pages: | 297 |
| PDF File Size: | 14.18 Mb |
| ePub File Size: | 15.92 Mb |
| ISBN: | 119-5-48916-204-3 |
| Downloads: | 95206 |
| Price: | Free* [*Free Regsitration Required] |
| Uploader: | Arashura |
After you have copied the site's members' url, make sure that everything is set correctly; the word list has to be loaded, your proxies have to be checked, and double-check on your settings.
Save them as a text file.
***** A Tutorial To Use AccessDiver *****
Once you have your list, you need to import it into Access Diver; Click on one entry and press "a" to select all. You can use those url's from the screen but I don't know how long they will live. Tuttorial good, diligent Administrator should ensure that any IP trying to log-in more than a few times a day accessdkver blocked. Check if the url is correct. Sometimes AD screws up the first time u run a site. This tutorial is for complete beginners.
access diver tutorial – General talk – Students Hang Out
The nuber of bots depends on your connection speed, so you'll have to determine it yourself. You should see this:. If you don't get responses, your attack is not being successful. On the popup AccessDiver just click on it and it will disappear. Now goto where u saved your proxy list. I've included some of my own in Appendix II. Simply typing Proxy List into Google will give you hundreds of free lists.
Now you should check anonymity od those proxies. Most important thing is security – you don't wanna get caught for hacking into porn sites, do you? It should never be used to attempt to gain access to a server owned or paid for by another individual.
Lists that you need to have before you get started: After you attack a site you will have proxies that r and that can be used against other sites.
Now the proxies are ready to go. Unfortunatelly AD doesn't have the feature to leech from forums only usual sitesso you can use different programs to do that. Posted 04 March – Now your list is loaded. OK, Now you have a nice set of anonymous proxies I usually get between Now leave Access Diver to check your proxies for anonymity. Now click "Start leeching" and wait. A good word list contains commonly used words. Now, look up where it says " Test speed "; there's a scale with a the number 50 beside it.
Now you will need to save all of the highlighted working proxies.
This is ok; Access Diver should filter out the ones that aren't working. Try to lower the number of bots if you're reciving too many 's. Download and install version 4. Bingo, There you go, you got your password ; easy!? Several functions may not work. The higher the number of bots, the faster the attack, but you don't want to overload the server or the attack is useless.
Then, go through your list and manually delete and proxy that has a question tutlrial anywhere in the "Anonymous" column e. If you have a list of a proper size, this might take a few moments. Access diving won't work to get you into a private area with only a few members; because we are trying to randomly guess a correct log-in, the more logins there are, the better out chances.
However, standard security systems employed by most websites do not do this luckily for us. The first thing you will need tutoorial a simple, unfiltered list of proxies, and you want it as big as possible.
Delete all non-anonymous proxies Ok, so now you should have a list accessxiver a few hundred working, anonymous and safe proxies. This will highlight all the proxies and repeat.
So, we go to "Join by Credit Card" Note that accessdiveg names and passwords must be over 6 characters Here we have some very useful information; we now know that all user names and passwords are over 6 characters, don't contain special characters and tutoorial chosen by customers, so probably won't be randomly generated character strings. Now i'll explain what to do with the proxy list, which you were supposed to get earlier. Weak log-ins are saved in your "History".
See Appendix I for proxy resources. Back to General talk. Sometimes AD doesn't want to start cracking.
access diver tutorial
All images are fake and used for illustrative purposes only. AD finds them working but they aren't. If there is already a wordlist there this came with AD and has probley been used to death.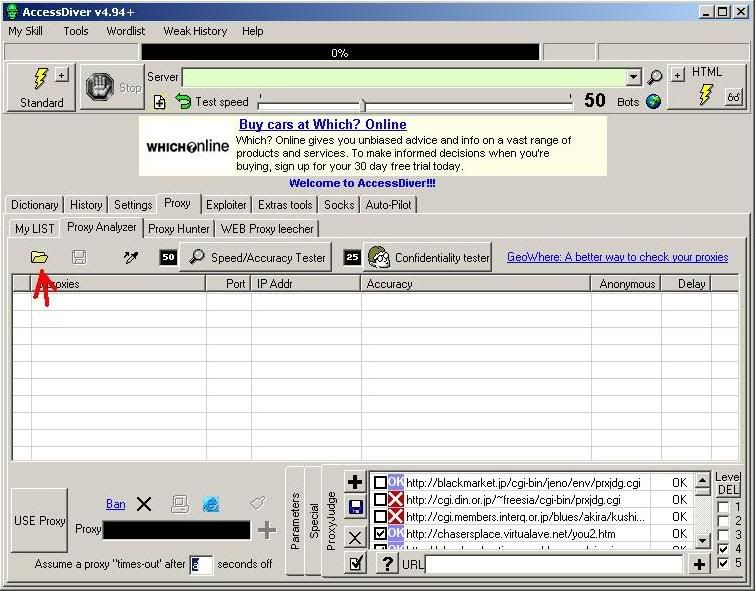 accessdivfr Right click as shown below and select "Verify all scripts". Just right-click and choose "Add selected proxies in your proxy list". The green box shows how many of your proxies are working; as you can see, you can still achieve good access rates with only ten or twenty working proxies out of your list.
Like i said you only do this for new url's.